Campus California's mission is to fight worldwide poverty, to empower ordinary people to do the same, to reduce carbon emissions and create a sustainable future for all. Campus California recognizes that the earth's resources are finite and that preserving these resources is crucial to the well being of future generations.
You can read their 2012 annual report here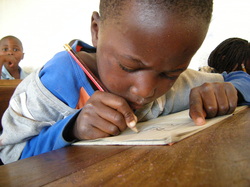 CAMPUS CALIFORNIA FUNDS VOLUNTEER TRAINING PROGRAMS THROUGH SALES OF USED CLOTHING

LONG TERM SUSTAINABLE DEVELOPMENT IN AFRICA AND SOUTH AMERICA IS STILL OF CRUCIAL IMPORTANCE; CAMPUS CALIFORNIA USES PROCEEDS FROM THE SALE OF USED CLOTHING TO SUPPORT VOLUNTEER TRAINING PROGRAMS.
Organizations like
Campus California
are continuing to support development work in Sub-Saharan Africa and South America. Through grants to several US non-profit organizations sending trained and highly skilled volunteers to numerous development projects, Campus California is standing by its commitment to provide support to the important work being done together with of many other government agencies and international NGO's like Humana People to People. Campus California recognizes the importance of continuing the efforts to create development in some of the poorest regions of the world even through the challenging economic environment currently in the USA.One of the areas where continued support has proven to have lasting effects is teacher-training education. Since 2003 a number of countries in Sub-Saharan Africa have implemented a system of teacher training colleges to prepare primary school teachers for the rural areas. According to the agency overseeing these projects, in 2010 80% of the 11.000 graduates to date were still working in the rural schools, with over 2.700 new teachers being trained each year in 24 colleges in Angola, Malawi, Mozambique and India. To increase the number of teachers in rural areas and therefore to increase literacy rates is universally seen as one of the necessary steps towards empowering the population to create lasting development.Many of these teacher training colleges received help in the form of highly motivated volunteers from the USA and elsewhere through the organizations supported by Campus California. One World Center Michigan and Massachusetts have both trained and placed hundreds of volunteers in a number of development projects in Sub-Saharan Africa and South America.
Campus California
services the largest number of clothing donation boxes in the San Francisco Bay Area. More than one thousand locations are available for the public's use 24/7 and more are being added all the time. As a non-profit organization, Campus California uses the proceeds from the sale of collected clothing to support recruitment and training programs for Development Instructors, dedicated international volunteers working with sustainable development projects in different parts of the world. Since the start of the program in 2003 this organization has collected over 10,000 tons of donated clothing.
---
OAKLAND'S PUSH TO BAN DONATION BOXES VIOLATES OPERATORS' FIRST AMENDMENT
RIGHTS
Oakland's recent attempt to regulate
unattended donation boxes
out of business and to temporarily entirely ban any new box in the city infringes upon
Campus California
's and other operators First amendment rights.
Oakland's recent attempt to regulate unattended donation boxes out of business and to temporarily entirely ban any new box in the city infringes upon Campus California's and other operators' First amendment rights.
The city claims the boxes are a source of uncontained trash/blight, but the city has not provided any documentation of complaints. The Unattended collection boxes being targeted are set on private property to collect clothes, shoes and books with permission from Property and/or business owners.
Oakland and other bay area cities have, for the past several years, been creating such ordinances. Other, more powerful, used clothing collectors who operate through brick and mortar locations, often, heavily promote this effort.
In the most recent Michigan case U.S. District Judge Denise Page Hood Stated: "solicitation of charitable donations such as clothing, shoes, and other
textiles
is a form of speech fully protected by the First Amendment to the United States Constitution."
Further more, on a recent Nebraska case, the Court stated that "the public receptacles are not mere collection points for unwanted items, but are rather silent solicitors and advocates for particular charitable causes….They represent far more than an 'upturned palm' or a mere 'proposal of a commercial transaction that says donate goods here.'" The solicitation found on the boxes "is characteristically intertwined with informative and perhaps persuasive speech seeking support for particular causes or for particular views on economic, political or social issues."
It is difficult to accept that the disturbing relationship between big business and government can crush such an effective and community supported effort to recycle and reuse valuable resources keeping them out of landfills, and making them available to people who can't afford to buy new clothes - 70% of the World's population.
Every pound of textiles diverted from the landfills have a significant environmental benefit; cotton, the raw material for most of clothing produced today is one of the most water, nutrient, labor and pesticide intensive crops grown on industrial scale. It takes over 900 gallons of water just to grow a pound of cotton; the amount of pesticides and fertilizer needed to grow enough cotton to make one T-shirt is almost the same as the final weight of the T-shirt itself.
There are regulations that could be implemented to effectively regulate unattended donation boxes, protect the environment and at the same time preserve the operators rights. To ban them is utterly unacceptable.